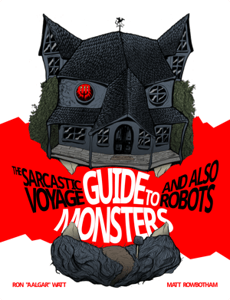 $

5.00
Wolfmen, draculas and ninjas (among many others) are covered in this comprehensive guide to all things supernatural and macabre. And in the interest of providing equal time to the opposing side in the ongoing debate between Monsters and Robots, there's also some crap about robots in here.
The SVGtM&R is written by AAl and Matt, with art by Mark Boszko, Mark Darin, Gregory Dickens, Pat Loika, Brian Lynch, Chris Page, Carrie Putnam, Ramon Villalobos and Scott Ziolko. Layout and additional art by Vishal Bharadwaj. It's a full-color, fully illustrated and frankly gorgeous piece of work.
20 pages, full color. ebook comes in PDF only.
Shipping cost will be refunded for ebook orders.