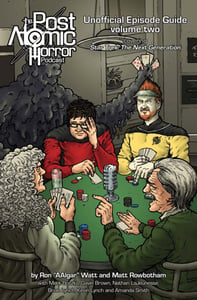 $

7.50
More all-new, original-for-this-format material, this time covering all seven seasons of Star Trek: The Next Generation, as well as all four movies!
Includes guest reviews by all the PAH regulars: Mark "Bob" Boszko, "Irish" Gav Brown, Nathan LaJeunesse, Brian Lynch, Kevin "Flonk" Lynch and Amanda Smith.
103 pages, B&W (mostly text).
Ebook delivers in your choice of PDF, epub or Kindle format.
Shipping cost will be refunded for ebook orders.